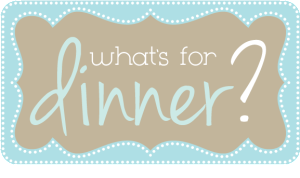 By Mary Covey
Busy people everywhere are all asking the same question "What's for dinner?" If you are the person responsible for planning and preparing meals, this question is in the back of your mind all day long. What do I have in the refrigerator? Do I need to thaw something? Should I put a meal in the slow cooker before I head off to work?  What drive through is on my way home? It's enough to make a person crazy!
When I started my home-based business, I never thought "what's for dinner" would be a problem. Just take a few minutes from work, go to the kitchen, make dinner, then back to work. Right? Wrong! It seemed there was always one ingredient that was no where to be found in my refrigerator or pantry. So I would have to stop work and head to the market. You can never be in there for just a few minutes. I would always come home with things that I did not go for - sometimes I would come home without the item that I went to get.
But thankfully, I found some help. There are several websites that have made my life easier. The first one is www.mommyhatescooking.com by Kristy Still. Kristy has "Menu Plan Monday" with a free printable weekly menu planner. There is also  a recipe index that helps create a shopping list from the recipes you pick. Her pumpkin bread in a jar is just wonderful this time of year.
For those of  you with food allergies check out www.foodallergyeats.com by Sarah Roe. Sarah also has a menu planner that also helps in creating a shopping list. Besides recipes, there are lots of helpful articles for people with or without food allergies. Her allergy free taco salad is delicious. Sarah recently became the new owner of The Produce Gathering – a local co-op that offers healthy food at affordable prices. To get more information go to www.producegathering.com.
And finally who hasn't heard of or watched an episode of The Pioneer Woman with Ree Drummond? (www.pioneerwoman.com) My favorite part of her site is Freezer Food. These recipes are make ahead, freezer friendly meals. They can go straight from the freezer to the oven on nights when there is absolutely, positively no time to cook.
So for busy people (quilters) everywhere, when you hear, "What's for dinner?", help is just a click away.
#dinnertonight #allergyfreerecipe #menuplanning