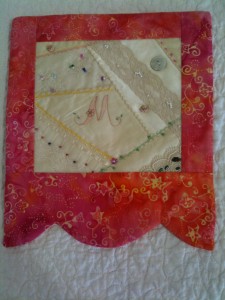 I enjoy piecing large quilts. But, I really enjoy working on small pieces. Miniature quilts or small wall hangings give you the opportunity to try out or practice new skills without making a big investment in time or fabric.
They are an easy way to pull from your stash of fabrics that are too small to use anywhere else, or cut into some of the expensive stuff without having to use very much. You can try different color schemes without being committed to a king size version of something you don't like.
In the small wall hanging above, I started in the center with a piece of shadow work – my initial. That became the center of my crazy patch block. I used beads, buttons, lace, and hand embroidery to complete the block. It was great fun keeping up on some of my skills and using up some stash. I finished by adding borders and backing. The backing was done using a pillow case turn so no binding needed. I am interested in what you're working on, so send me pictures of your small pleasures.