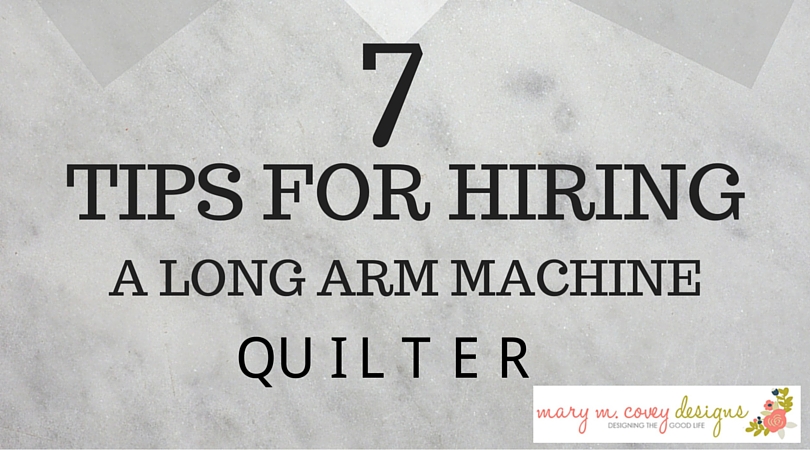 By Mary Covey
Over the past several years, long arm machine quilting has become both a popular and beautiful way to finish projects. It is also a great business opportunity for many quilters. So, hiring a professional who uses a long arm machine is always an option for getting your projects completed. If you do decide to use a professional quilting service, keep these tips in mind:
Ask for references from other customers or from local quilt shops.
Ask to see samples of the quilter's most recent work. Most professionals will have a web page or Facebook page with pictures of their most current work.
Check out the quilter's policies and pricing. A quilter may charge by the square yard or by the square inch. Always ask what is included in the price. My price includes the thread and the labor. Another quilter may include thread, labor, and batting in their price.
Agree up front on the quilting design, batting, thread color, completion date, and finished quilting price. Binding your quilt is usually a completely separate price.
Be clear about what you expect to receive in exchange for the quoted price. Long arm quilters are just like other professionals (mechanics, electricians, plumbers, etc.), they will be happy to put a quote in writing.
Be willing to leave a deposit if it is requested. Just like the plumber, full payment is due when the quilting is competed.
Look over your quilt when you pick it up. If you have any questions or concerns about your quilt ask the quilter right then. Any business owner will want to hear your comments and address them immediately.
Because we know how much time and energy you put into making your quilt top, professional long arm quilters take pride in doing a good job for their customers. It is especially gratifying when the customer is pleased with your work. Don't hide your quilt tops away in the closet. Get them finished by a long arm quilting professtional.