By Mary Covey
Have you ever been driving and think you hear a noise that just doesn't sound right? Or maybe the brakes make a squeaking sound when you use them. To prevent worrying about those things, I always take my car in for regularly scheduled maintenance. The mechanic has a check list that he goes over with me that lets me know if anything needs to be done to the car. He will also let me know when the next maintenance appointment should be scheduled.  Just like any other mechanical thing your machine (long arm or home use) should be taken in for regular scheduled maintenance.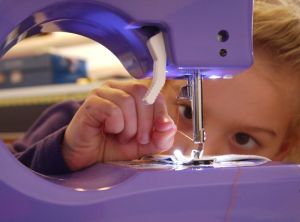 Here are 5 Machine Quilting Tips to maintain your long arm or home use sewing machine:
Check your owners manual to see how often your machine should have a check up.
Find a maintenance shop that has guaranteed service with certified service repair men. The place where you bought your machine is a good place to start.
Set up a schedule and stick to it even if you think there are no problems with the machine.
Don't be afraid to ask questions when you do have your machine serviced.
Always ask for a copy of the parts that were checked or replaced.
Finally, keep good records of service in case you do have a problem. Manufacturer's warranty may depend on how well you have maintained your machine.