By Mary Covey
What were you doing last year at this time? That was the question that kept running through my mind as I was long arm quilting today. The answer to me was clear – long arm machine quilting. Since that is a huge part of my business, it made me smile.
But then I began to reflect on all the changes my business has gone through in just a year. The old web page was in severe need of a facelift. I wanted a better way to communicate with you. With the help of some very talented people, the old site was taken away and a new blog (www.marycoveydesigns.com) was launched. The blog provides access to Facebook, Twitter, Pinterest, and more.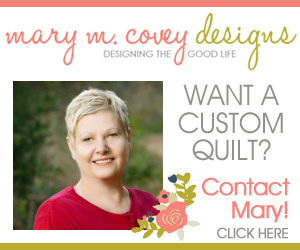 Because of the many requests from you, I expanded my business to include coaching in starting and growing a cottage industry. It will also include coaching in pattern/book development. I am looking forward to this new journey while continuing my love of long arm quilting for others.
This time of year is filled with lots of busy activities and traditions. It can really be hectic. Take time to slow down for a few moments and look back on your year of quilting. Think about where you were this time last year and how much you have accomplished since then.
I am thankful for everyone who has helped me this year. I am blessed to have support and encouragement everyday from my customers, friends, and family.
#Coaching #Patterns #Quilting