By Mary Covey
I always enjoy opening the blinds and doors to let the sunshine and fresh air come into the house.  The sunshine lifts your spirit and brightens any home. So it was no surprise to me that I enjoyed longarm machine quilting Jennifer's quilt. This modern quilt would be a great addition to any home.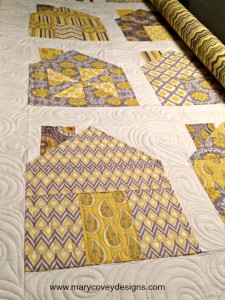 When I first thought of the grey/yellow combination, I wondered if the grey would make the yellow appear dull. I was pleasantly surprised to see that the grey was just the right shade to make the yellow come to life.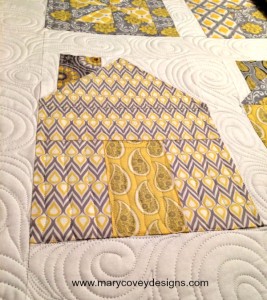 The blocks were set together in rows using pure white for the sashing and borders. A yellow and grey stripe was used for the backing (as seen in the first picture). Most of the blocks were a standard house block but some had a pinwheel in the center just to add variety.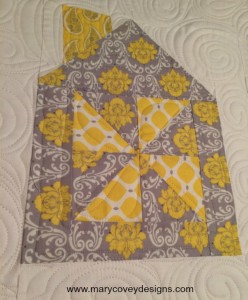 No matter what time of year, next time you want to bring the sunshine inside and brighten your day, try working with this great color combination. You  may be just like me – pleasantly surprised!   #ModernQuilt #ColorCombination #LongArmMachineQuilting