By Mary Covey
From fabric to thread to batting, as quilters we are always in contact with fibers. Whether it is piecing a quilt or machine quilting a quilt, the fibers we work with create particles of dust. Over time those small particles become larger bundles of dust. These bundles can cause all kinds of problems for both you and your machine. From skipped stitches to machine malfunctions, it is not a pretty picture. The dust in the picture below is from quilting just one row.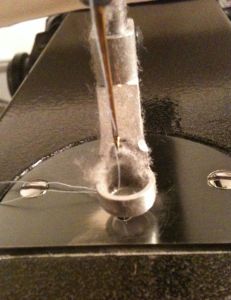 Here are a few suggestions to prevent these problems:
 1. Start with a clean surface. Wipe the outside of your machine and working area off with a lint free cloth.
2. Check your bobbin hook, bobbin case, and bobbin to make certain they are free of dust and lint. Just as the dust collects around the needle, it can also collect in the bobbin area as pictured below.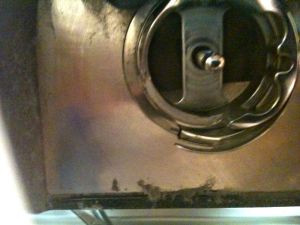 3. Oil your machine according to the manufacturer's recommendations.
4. Start each new project with a new needle. A dull needle can cause dragging and puling in the fabric.
5. After each project is finished ( or in the middle of a big project), blow the dust that has collected in the machine out using compressed air, the same kind you would use on your computer.
Happy Sewing!