By Mary Covey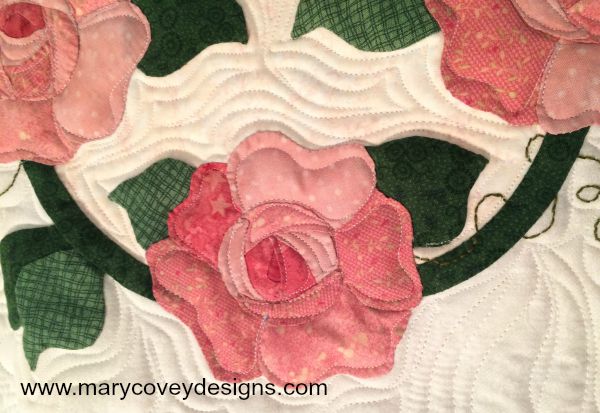 When planning a quilt, most quilters know there are three elements to keep in mind – design, color, and texture. There is no denying that we are drawn to a quilt by the beauty of the design and by the color combinations that dazzle. But what about the texture – the actual quilting itself?
The quilts of yesteryear required a great deal of close quilting to keep the batting from shifting and lumping. This is not true for today's quilts because of the numerous choices available in batting, more focus can be put on a quilting design that compliments both the design and color of the quilt.
The beautiful applique' quilt block above was hand appliqued by Jane Green. Her attention to detail in the flowers deserves to be enhanced by machine quilting that does not distract from her work. Using matching thread colors helps keep your eye on the design of the block. Echoing each of the shapes both inside and outside creates equal density while still maintaining the beauty of the block design. Echo quilting is like ripples in a pond – they start out close in a perfect ring and get larger  the further away from the center they get.  After several passes around a shape swirls, leaves, hearts, and other designs can be added(see example below) to make those blank corners of the block beautiful.